In the world of modern dentistry & technology, those times are gone when you have only options for braces to fix your crooked teeth to achieve your dream smile. A Smile Makeover is easier than ever, especially when your family dentist is also a cosmetic dentist concerned about both your health and appearance.
One of the most popular choices for clear braces is Invisalign appliances. An Invisalign retainer with Invisalign attachments allows you to go about your regular business without worrying about how you appear to others. And every day, your teeth become a little straighter.
In fact, Invisalign is more comfortable than braces. With Invisalign, there is also no risk of getting your gums cut, as the Invisalign trays just rub smoothly against your gums. Ask your local dentist at Dental Square, Lumberton, TX if you have any questions or concerns.

Invisalign is a clear align technology that includes several sets of tray which Invisalign is a clear align technology that includes several sets of tray which gently moves teeth in the right position and which is planned ahead of time. Dr. Rajesh Dhanani is a Certified Provider of Invisalign braces dentist in Lumberton, Texas. When you visit his Lumberton dental office for Invisalign you'll get to know even more about how modern dentistry in Lumberton can provide an innovative teeth-straightening method and you will find out if Invisalign is the right way to straighten your smile. We are always excited to see you as patients and we as a provider are all smiles after getting a wonderful result that Invisalign can bring in your life
Invisalign: The Guided, Professional, Teeth Alignment Innovation
Here is what to expect from Invisalign treatment provided by your local Lumberton Dentist in Lumberton, Tx
Fully focused, custom-tailored comprehensive dentistry, monitored by our experienced dentist treatment from start to finish

Digital impression for your comfort and photos, including X-rays to identify root morphology and size and shape and evaluate any periodontal disease or other problems before Invisalign trays are made.

Comfortable, customized Invisalign trays throughout the entire course of treatment, designed to move teeth at the proper speed and in the right order.

Regular Dental appointment prescheduled monthly or every other month to make sure that teeth are moving as planned and minor adjustments can be made, as needed.

Attachments are small "bumps" temporarily attached to the tooth enamel and designed by Invisalign technology to facilitate specific movements on different teeth to ensure ideal results.

Bleaching gel is sometimes prescribed so teeth can become as white as possible while teeth are undergoing straightening.

Refinement, which includes monitoring the teeth and making additional trays at no charge for final tooth positioning.

Vivera Retainers following Invisalign treatment to maintain the position of the teeth.
With Invisalign, clear aligner technology you can achieve your desired smile makeover and correct malocclusion without the discomfort of metal wires and brackets, having the freedom to eat whatever you like, and enjoy the journey to having a straighter smile every day. It's a huge benefit and at end of treatment we are all smiles.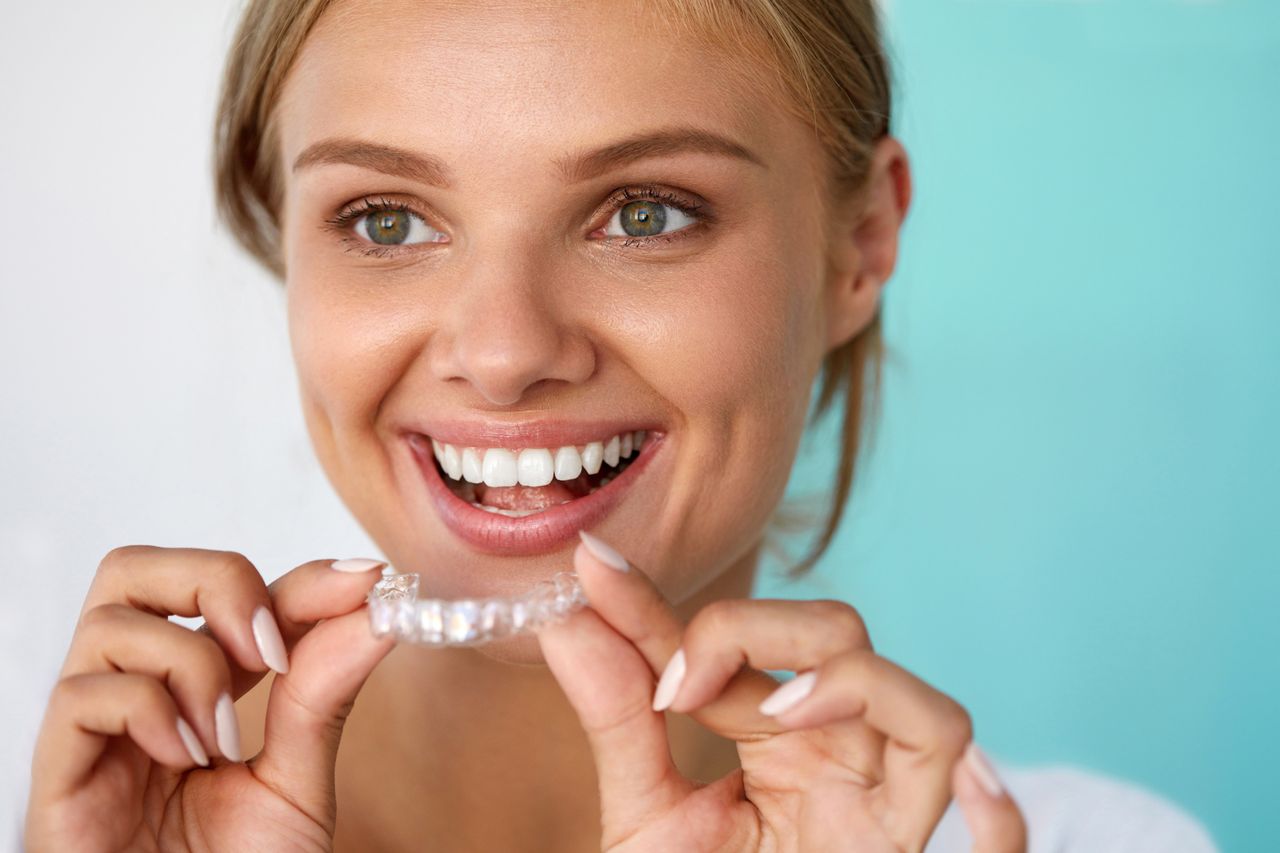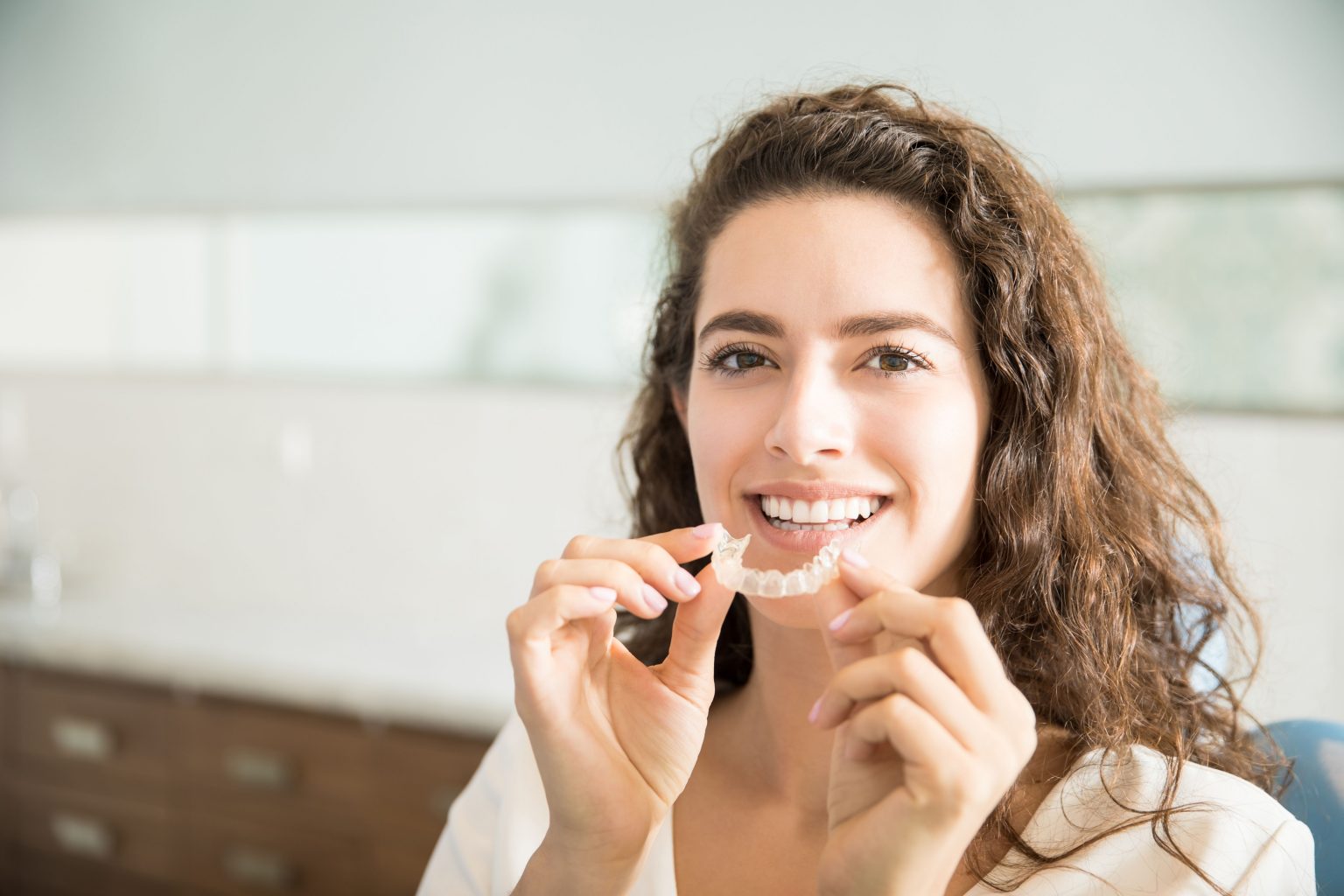 Invisalign vs Braces: Is Invisalign as good as braces?
During Braces treatment you expect:
Traditional braces are uncomfortable and noticeable

You CANNOT eat what you want

Cleaning metal braces is time-consuming:

Unpredictable tooth movement

More Dental visit to fix your broken brackets or broken teeth
During Invisalign Treatment you expect:
Eat whatever you want to eat

Treatment is usually faster

Less plaque build up so more healthy gums

No inconvenience of broken braces or wires poking or hurting

Esthetically very pleasing

Predictable tooth movement
Why should you get malocclusion/crooked teeth treated?
Reasons you should correct malocclusion:
Healthy teeth are less prone to periodontal disease

Achieve a dream smile that you been waiting for a long time

Less chance to get TMJ Pain, less prone to wear your teeth

Putting less effort in cleaning & get better result in cleanliness

Less prone to build plaque

Boost your confidence

Improve speech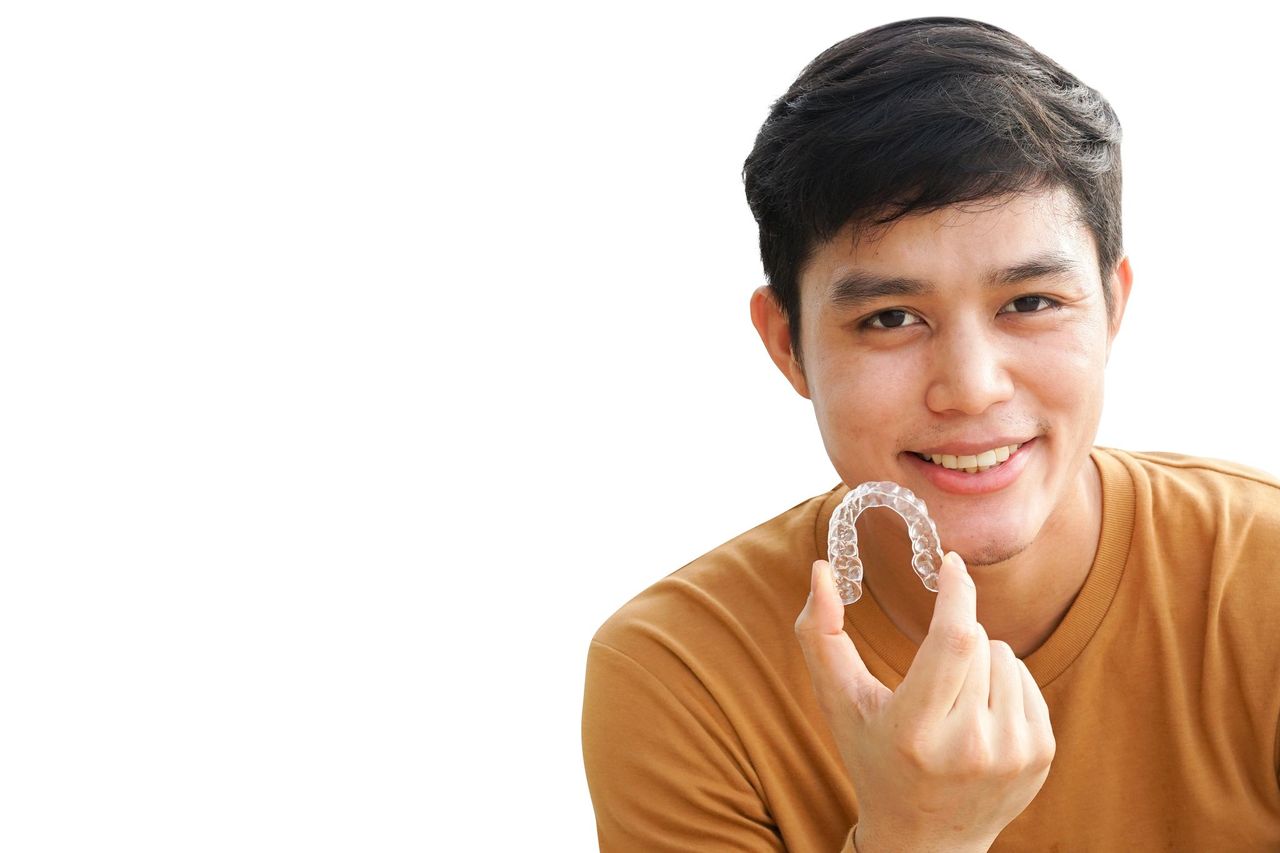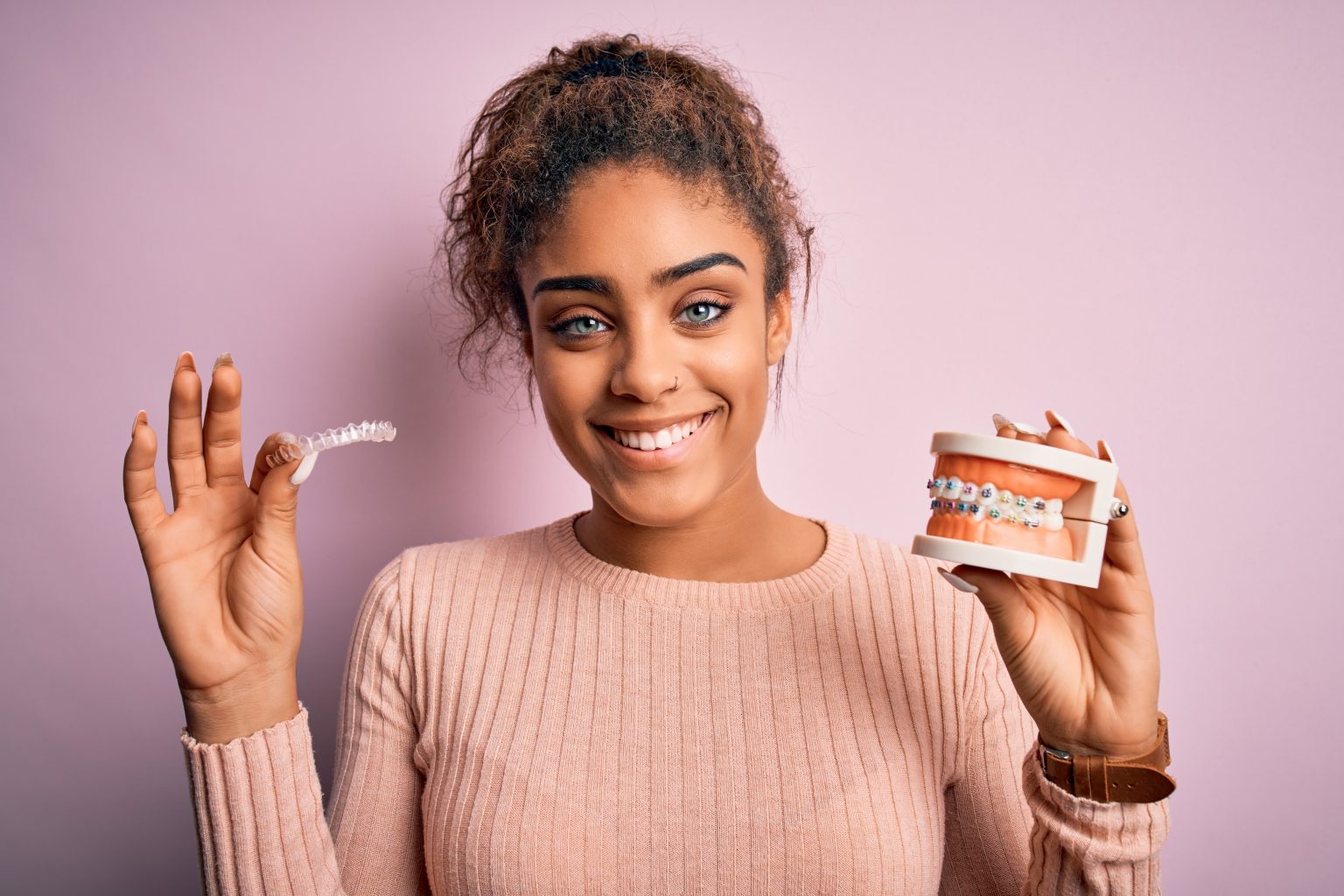 Invisalign cost vs braces?? What is Invisalign price?
Everyone has unique facial features, size, and shape. There is not one smile that looks good on everyone, hence everyone needs a customized plan and that plan includes an average of 10 weeks of treatment to 24 – 36 months treatment. So the cost of Invisalign depends on how long is your treatment is and what needs to be changed in the teeth.
We always tell our patients Braces or Smile Design is an investment: Like traditional metal braces, Invisalign can cost between $3,000 and $8,000.The good news is a majority of the insurance carrier covers roughly ranging from $1000 to $1500 if there is no age restriction. We can help you know your exact portion before starting the treatment.
At Dental Square, as an experienced local dentist, we promise you by Finishing your Invisalign treatment you will be smiling more than you are currently. Not only that, but even your confidence will also be boosted. The kids will never be bullied for their teeth. Just imagine you would never have to cover your mouth in front of the camera or choose a  " favorite side" to pose. This will be one of your best investment you are ever going to make it. So don't just buy our words, check out what our patients have to say.
By getting Invisalign treatment at our Lumberton Dental office, we can promise our experience saves you money because Dr. Dhanani has extensive experience treating patients with Invisalign. Ultimately the final cost can be $1,500 to $2,000 less than what most orthodontist specialists charge for the same treatment. So you can afford it. Dr. Dhanani, offers flexible payment plans, including CareCredit, so you can make Invisalign a reality for you to achieve your dream smile.
Being an experienced cosmetic dentist we can provide you with an all-inclusive cost for your customized Invisalign treatment before any treatment begins.
No surprises and No additional charges for things like photos or additional trays.
Aligners are worn 20-22 hours per day.

Clear plastic aligners mean no one knows you're wearing Invisalign unless you tell them.

Easy to remove aligners for meals and snacks.

Your responsibility to change aligners per the customized treatment plan.

Aligners are smooth and comfortable.

Only need to visit your Lumberton Dentist about every six weeks for check-ups.

Easy to keep your teeth clean and healthy.

Easy to clean the aligners.

Faster treatment than traditional metal braces.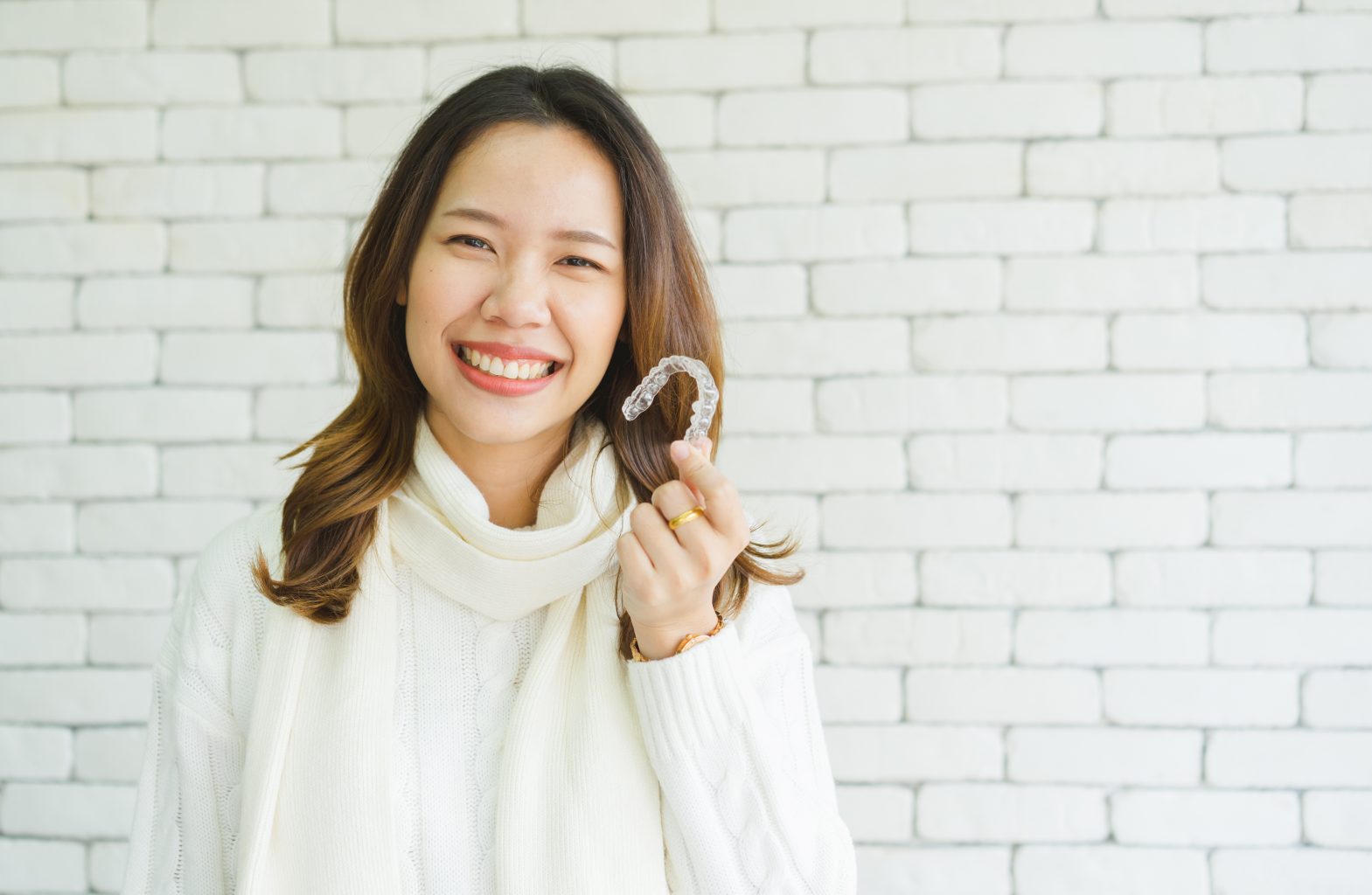 Is Invisalign treatment right for you ??
OverBite - Upper front teeth close in front of the lower teeth. Also called Deep Bite

Problem - Wearing of teeth & jaw pain
UnderBite - Lower teeth protrude past upper front teeth.

Problem - Difficulty in chewing, speech problem and rapidly wear down of tooth ename
Crowded teeth - Don't have enough room to accommodate your teeth in the jaw

Problem - Hard to clean and plaque build-up is high and due to this you could end up getting Periodontal Disease
Open Bite - Top and bottom teeth don't meet.

Problem - Difficulty to bite certain food e.g Apple
Gap teeth/space between teeth — Extra spaces between teeth.

Problem - esthetically not pleasing, Food stuck between teeth and swollen gums and could lead to gum disease
Overlapped/Crooked teeth - There isn't enough room in the jaw for teeth to fit normally.
Mis-align teeth - When you just want a more beautiful smile.
If you can relate to any of the photos above
Good news !!!  Invisalign is right option for you.
Call us at Dental Square,  for your Experienced Cosmetic dentists in Lumberton Texas and schedule your free consultation.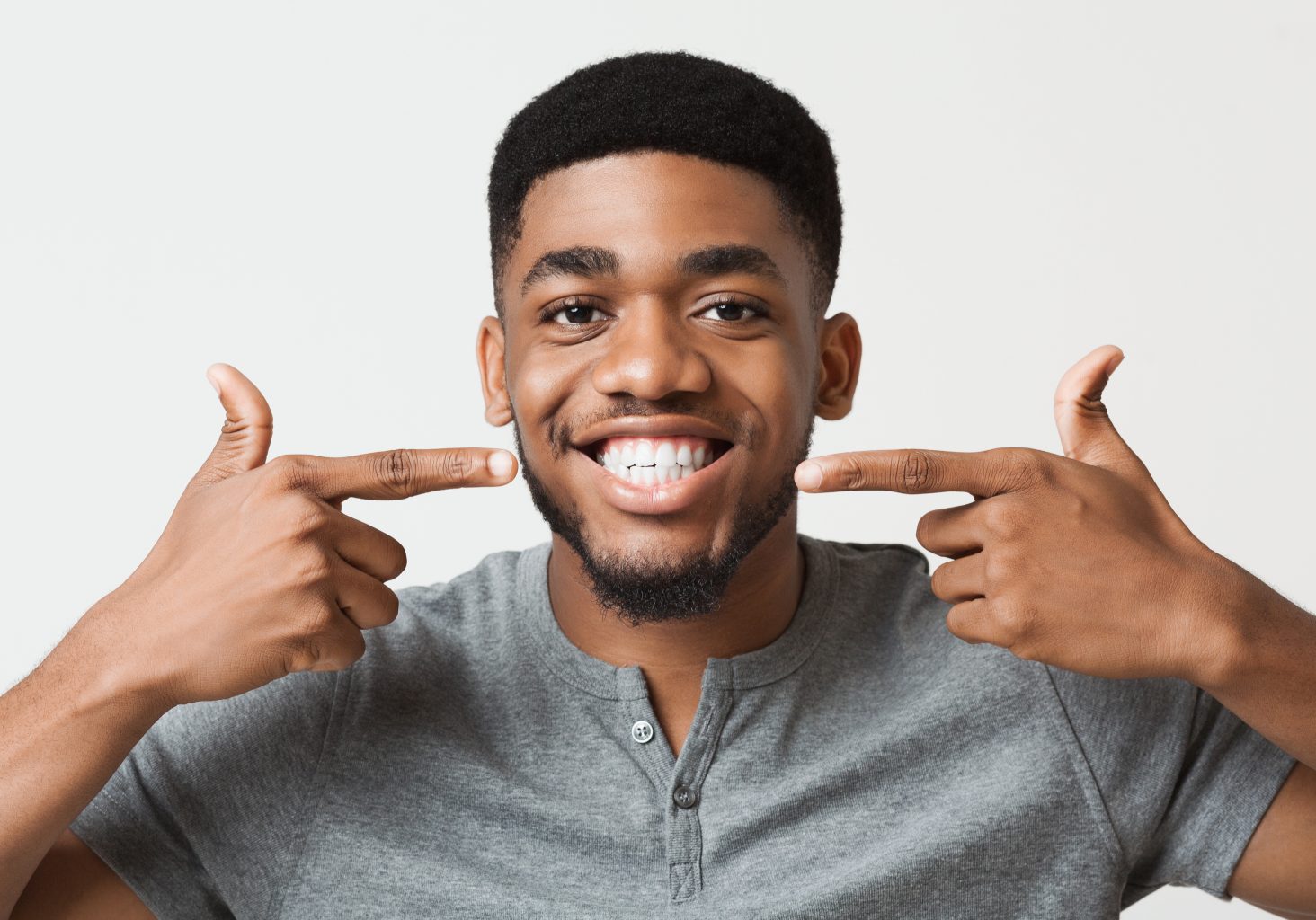 Most of the adults don't feel comfortable with the name of braces or metal wires. They feel like they don't want to be judged by people when you are giving presentations, sales pitches, arguments, or lessons before a group of people on a regular basis.
With the innovation of Clear Aligners, Adults don't need to worry if they want to straighten their teeth because now they can straighten their teeth without anyone knowing that they're undergoing orthodontic treatment.
Most of the adults don't feel comfortable with the name of braces or metal wires. They feel like they don't want to be judged by people when you are giving presentations, sales pitches, arguments, or lessons before a group of people on a regular basis.
With our experienced Invisalign Provider in Lumberton TX, you will get fully customized orthodontic treatment that will accurately and efficiently straighten your teeth and bite.
Most of the adults don't feel comfortable with the name of braces or metal wires. They feel like they don't want to be judged by people when you are giving presentations, sales pitches, arguments, or lessons before a group of people on a regular basis.
Benefit of Adult orthodontic treatment with Invisalign
Getting teeth straight with Invisalign in adult,  gives you full flexibility, meaning  Invisalign won't disturb your lifestyle,  your career, family obligations. It's easy to remove Invisalign aligners from the mouth when needed during photos, at any party and put the aligners right back in afterward.
As you start wearing your aligner you will start seeing the result immediately and as you move on your treatment plan you realize your smile become more attractive and adding value to your lifestyle, you will feel more confident and you will start smiling more. With ongoing Invisalign treatment, you need to wear the aligners 20-22 hours a day 
Does Invisalign does hurt ?
It cannot be called a painful treatment but yes it does cause some soreness which is subjective to each person and teeth being moved. This soreness is the most when you first start using a new aligner, gradually becomes less and less as the teeth moves.
But in general, it is less painful than traditional metal braces, and like any type of orthodontic treatment, because there is no metal braces or wires in your mouth. No teeth straightening methods are completely painless.
Invisalign vs Smile direct club: Let's see What's the best option for your teeth ???
When you are ready in charge of overlapped teeth or malocclusion or crooked teeth, there are many options to able to achieve your dream smile without wearing metal braces or wire. Invisalign is the leading pioneer in clear aligner technology. As this technology is very fast, predictable, effective and proven over the years and having a database of millions smiles corrected there is no doubt about this technology. You have probably heard of SmileDirectClub too, which is the right choice for some people. Let's figure out which option is best for you.
SmileDirectClub or DIY aligner
Unsupervised treatment, you are not in touch with a dentist for your teeth straightening

No clinical monitoring

No X-rays before treatment so no ideas of root pattern or any gum disease or cavities that needs to be addressed before treatment start

Only phone photos and impressions are used to create

   

tooth movement plan. Without critical clinical and radiographic information, the candidate is at an increased risk for cavities, gum disease, and tooth loss and that actually can happen.

Less expensive

No attachment means unpredictable movement
No personalized care by an experienced dentist that makes a huge difference and peace of mind.
Want to choose the right options for you ??
Everyone deserves to find the right alignment option for their teeth that fits your budget, lifestyle, goals, and timeline. Having the guidance of a Lake Jackson Dentists as you make this decision means you will have help in selecting the best type of straightening for yourself.
Don't take a chance to Initiate problems with your teeth and gums or wasting time on an impermanent straightening method. Choose an orthodontic treatment with experience dentist in Lake Jackson Tx at Smile Square Dentistry. Come and see us and get the facts that you have the right to know and make the right decision for your smile.
Includes X-ray and consult with our doctor to answer all your questions about straightening your teeth.